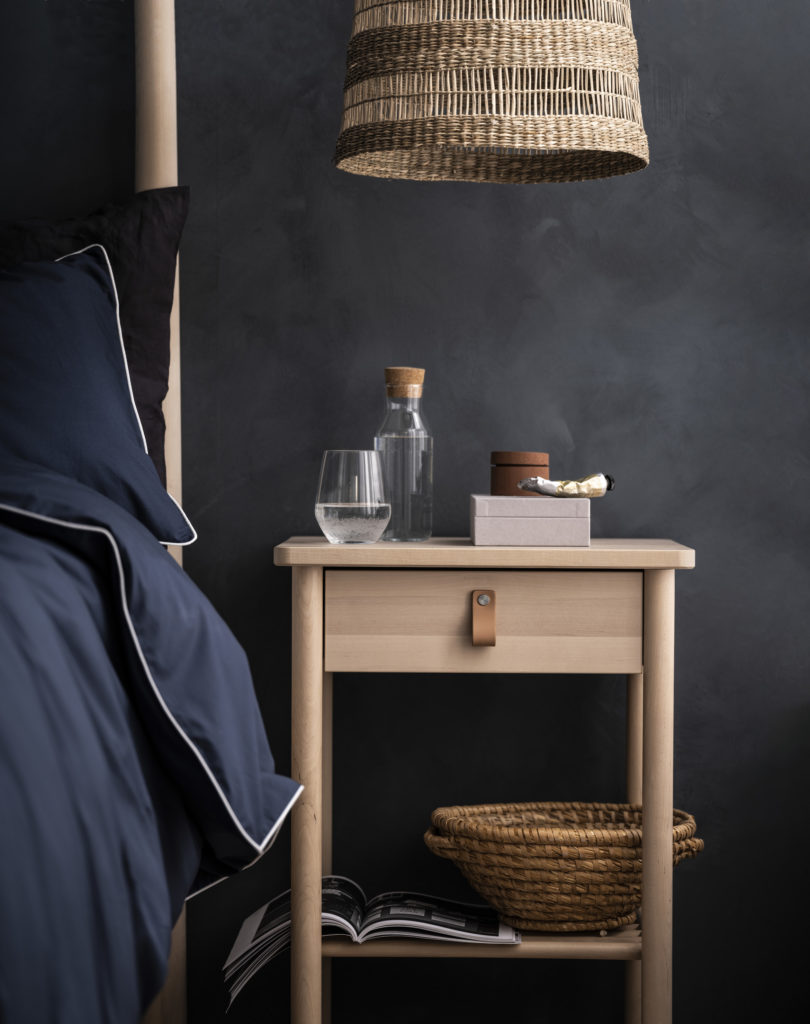 There's nothing quite like the 2021 IKEA catalog dropping to get my design-loving heart beating faster. I've loved IKEA for as long as I can remember. No, seriously — wandering the vast warehouses on a quiet Tuesday evening is a form of therapy for me (it's so calm and quiet). Plus, I literally sourced and shipped an IKEA clock from South Korea (!) as it had been discontinued here in the US, but that's a story for another day…! Remember when I went behind the scenes of the IKEA catalog photo studio back in 2013? Urgh, that was SO much fun. Seven years later and I'm still just as excited about the brand. Here are eight design ideas from the 2021 IKEA catalog that I'm inspired to try out at home:
1. MOVE TO THE DARK SIDE
Whether it's dark walls (rich navy and chalky charcoals) or dark furniture (think: jet black ash and oak) it's fair to say that there's plenty of inspiration in the 2021 IKEA catalog for decorating with dark colors.
2. JAPANDI TREND
The fusion of Japanese and Scandinavian design (Japandi) is a trend that's becoming ever-popular in the design world. The two styles make a natural pairing as they share many design sensibilities. You know I'm living for all these pale woods and clean lines. LOVE. Check out some small Scandinavian finds here. Here is a great basket, and a nice basketweave pendant light here too.
3. RATTAN & WICKER FURNITURE
If you've been loving the abundance of rattan and wicker in design stores over the past few years then the 2021 IKEA catalog will not disappoint because it's full of it. From armchairs and coffee tables to vases and storage bins, you'll easily get your fix of these boho materials. If you are looking at other places this is a great place to start.
4, EMBRACE PRINT ON PRINT
Listen, 2020 has been a YEAR! Why not let loose a little and take some risks with your decor? After all, they can pay huge design dividends. Print on print can feel daunting but if you stick to one color palette and mix up the scale of the prints you're likely end up with a striking and unique space that works. Accent with one piece of another color (like the green dotty pillow in the blue room below) for an added layer of color and pattern.
5. SAGE WILL SAVE US
OK, so technically sage won't save us BUT it can save your decor! This soft shade of green is popping up all over the place so I wasn't all too surprised to see it front and center in this IKEA kitchen. I love how it's been paired with the warm wood panelling on the ceiling and the light and airy birch dining table and chairs. So Scandi and calming!
6. SMALL SPACE HOME OFFICE SOLUTIONS
Working from home? Yeah, me too. Small apartment? Yeah, me too. In dire need of a WFH upgrade despite your small space? Yeah, me too. Thankfully, the 2021 IKEA catalog is packed full of creative ideas for home office solutions in small spaces. I love this one they've created inside a closet. Plus, you get to hide away all the clutter and work at the end of the day. I also love this mini desk too.
7. ACCENT WITH RED
Red is a great color to accent with in an otherwise all white space. Surrounded by clean white means a little goes a long way. Think: a utility cart in the kitchen or a storage unit in the entryway. If you need a red home cart delivered then this one works well.
8. INDUSTRIAL STYLE IS BACK
Were we in 2012 I'd have expected to see an industrial style kitchen like the one below in the IKEA catalog. White subway tile with black grout, task lighting, factory pendants, open shelving — this space has all the hallmarks of the industrial style kitchens that we saw all the time eight or nine years ago. I, for one, am glad to see this industrial look surging again, it has a timeless and effortlessly stylish feel to it. Now, I just need to find a kitchen big enough to recreate this whole space…
Photography by IKEA