As I get older, I'm not only considering the provenance of what I consume more closely but also trying to better understand what happens to things after I've finished using them. You guys know that my heart mate and I have been drinking Nespresso for the past eight or nine years. Their coffee is a huge part of our daily routine, and we've been recycling Nespresso capsules from the day we started drinking their coffee. We've taken inspiration from their coffee capsules for our beach house kitchen remodel and even visited Colombia with them to meet some of the coffee farmers they work with, and learn about the Nespresso AAA Sustainable Quality™ Program.
Although I have always recycled my Nespresso capsules, in all honesty, I never knew what actually happened to the capsules once they were recycled. Back in August, I visited Lausanne, Switzerland, the home of Nespresso, to learn about how the company recycles their capsules and gain a wider understanding of their sustainability efforts. While there, I was also able to work on an exciting project of creating the first IGTV episode for Nespresso's social media channels. Today, I'm excited to share seven of the most interesting facts I learned about their recycling program, and the fascinating second lives the capsules go on to have. Let's get to it!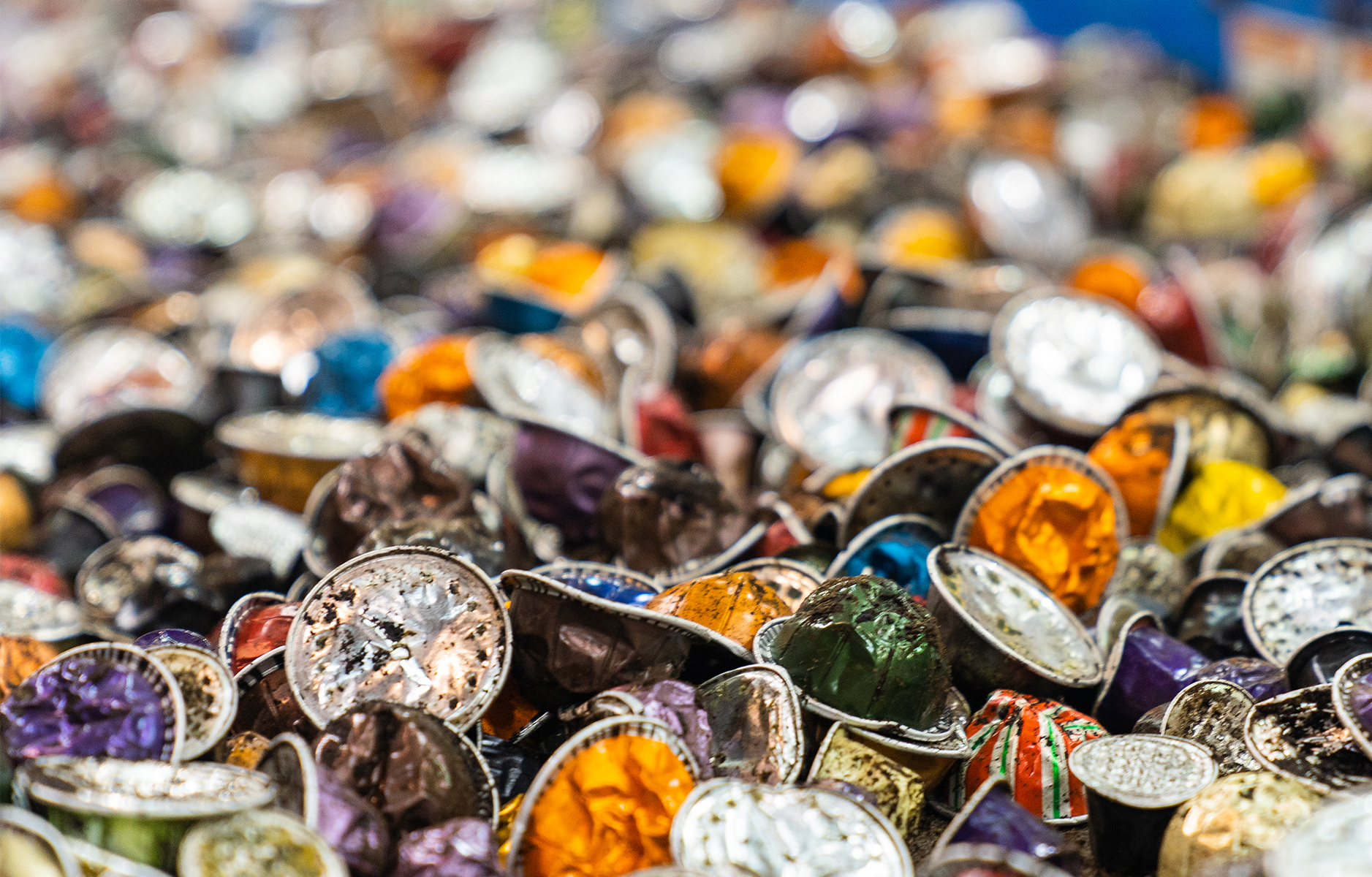 1. The capsules are fully recyclable.
Yes, it's true! I always knew that some of the capsule could be recycled, but until I visited Switzerland and one of the company's recycling partners, AgChoice, I didn't realize that the capsule is fully recyclable. When you think about it, it's amazing that each part of every Nespresso capsule has a chance at a second life, right?! This, and the fact that aluminum preserves the freshness and quality of the coffee, is the reason that the brand decided to use aluminum to make the capsules. Additionally, unlike many other materials, aluminum can be recycled again and again. And a fun fact for you, friends: an estimated 75% of the aluminum that has ever been produced is still in use today.
Nespresso capsules that are recycled in the United States arrive at one of the brand's recycling partners, such as Ag Choice (pictured above) in New Jersey. There, the capsules are removed from their plastic recycling bags (which are then bundled and recycled, too) before each element of the recycled capsules begins the start of its second life. Keep reading to discover some of the things the capsules go on to become…!
2. Aluminum has multiple sustainability and quality benefits.
When it comes to their sustainability efforts, Nespresso believes that Small Steps Make a Big Difference when it comes to their sustainable efforts which is why the seemingly small choice to use aluminum to make their capsules was actually a big decision, and a step toward creating a more sustainable process. At the brand's capsule production facility in Avenches, Switzerland, I learned how Nespresso sought to find and use the best material to not only protect the freshness and quality of their coffee but also match their commitment to sustainability. They found that in the power of aluminum. As a long-time customer of the brand, and now a partner, I was so pleased to see how much the company and their employees cared about both practicing business sustainability and maintaining the coffee's high quality.
3. The coffee grounds of recycled used capsules become nutrient-rich compost.
Once separated from the aluminum, some of the used coffee grounds coffee grounds are turned into nutrient-rich compost, which local farms and vineyards can use to accelerate the growth of crops and vines. Other coffee grounds are transformed into biogas. Above left, you can see used coffee grounds maturing into nutrient-rich compost at Ag Choice in New Jersey. The right picture, shows vineyards in Switzerland which use compost, made from used coffee grounds that comes from a similar local recycling partner.
During my trip to Switzerland, I was able to visit some of the vineyards that use nutrient-rich compost made from the coffee grounds of recycled Nespresso capsules, such as the Blaise Duboux Vineyard (pictured above).
4. It's really quick and easy to recycle your used Nespresso capsules.
Recycling bags are available for free with every purchase of Nespresso capsules, and across 48 states, you can drop off the bags of used capsules at one of 88,000 UPS locations or of one 500 collection points that are in Nespresso Boutiques and select retail partners. I keep my recycling bag under the sink and once it's filled with used capsules, I just leave it down with my doorman for UPS pick up – simple!
5. Nespresso capsules go on to become many amazing things, like Caran d'Ache pens.
Nespresso and the classic Swiss stationer Caran d'Ache partnered to create a pen from recycled coffee capsules, like the ones seen above. The powerful aluminum Nespresso uses to make their capsules can be transformed into other items as well, like Victorinox knives and even new capsules. I learned that producing aluminum from already used aluminum saves energy by 95%, which adds an additional element to support sustainable practices.
6. Nespresso USA supports communities by partnering with local recycling facilities.
In the US, once capsules are collected, they are sent to Nespresso partners like Ag Choice in New Jersey (seen above) where the aluminum is separated from coffee grounds. By partnering with small businesses, such as Ag Choice, the brand helps to provide jobs to local communities.
7. New Nespresso Boutiques feature sustainably sourced materials.
During my trip to Switzerland, I visited Geneva's flagship Nespresso Boutique, which, like so many of the new Nespresso Boutiques, includes sustainably designed materials. These include: tabletops made of used coffee grounds from Nespresso's factory in Switzerland, wood that has been sourced from Nespresso reforestation programs on coffee farms, and technological solutions to reduce energy usage. In the US, you can see similar features at their Madison Boutique in NYC.
That's a wrap on my latest adventure with Nespresso. I hope you found everything I learned about their recycling processes to be as interesting and enlightening as I did? OK, we earned a break, it's coffee o'clock…!