Oh those Swedes over at H&M Home really know how to knock it outta the park when it comes to super stylish and affordable home decor, don't they?! I've trawled through their key looks for summer and rounded them up into three main themes: black, blue and brights. My favourite is the summary, Mediterranian-inspired blue theme but I'd love to know which one you are digging? Click through to see all three looks in full – and be ready to 'ohhh' and 'arhhh' on muliple occasions…!
Pattern and texture are key to making an all blue palette visually interesting. A mix of textiles create depth and interest, from washed linen to rough denim, the mix creates a stylish line up of pillows to dress a couch or bed. Pair the blues with rustic wooden furniture for a winning summer look that will have you feeling as though you are beach side in Ibiza in an instant. Yes, please!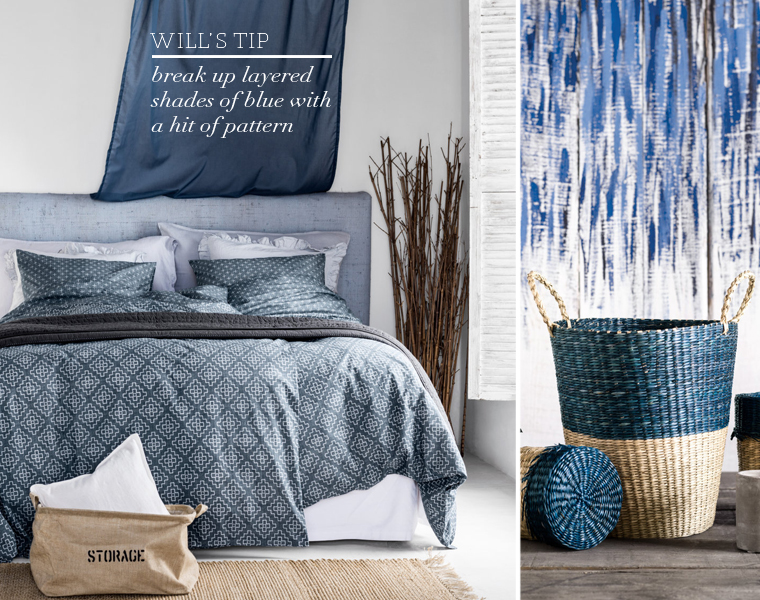 Ok, so the blues aren't doing it for you? Looking for something a little moodier? No worries, I have you covered with this round up of monochromatic designs! I have always championed decorating with black as I think it's such a timeless, sophisticated hue onto which you can either layer bright accents, or, as in this case, metallics. The hammered metallic flashes bring a touch of luxe and lightness to this black look – I love it! Also, can we take a minute to imagine taking a bath with that view? Incredible.
The third and final look is Brights. This is a playful collection that feels inherently youthful and positive in spirit. Candy stripes sit alongside cartoon-like illustrations of animals, all of which is set against a pastel ice-cream store inspired palette. With this look you can go all out and clash all the colours and patterns, or you can pick out one statement piece, such as the striped bedding to layer into an otherwise calmer space.
I'm still digging all those layers of gorgeous blue hues set against the rustic wooden furniture, but which of the three summer interior trends from H&M Home have you itching to redecorate?
//Photography by H&M, used with permission