Diving in at the deep end with super bright hues such as lime green can seem intimidating, so I hope this post is useful for raising those colour confidence levels! Embracing lime green can pay incredible design dividends, as the wonderful home of
Raina Kattleson
from the
first Bright.Bazaar book
shows. The key to success with a lime green-focused colour palette is to take one of two routes: you can lavish key pieces with colour such as walls and floors and keep furniture and accessories neutral. Or, switch it up and use layers of lime and turquoise shades to add interest to a more neutral space.
Raina's open plan living space demonstrates how to get the right balance when it comes to painted lime green walls. The smooth lime green base throughout serves as the perfect backdrop to layer in small splashes of blue hues throughout the space. By letting the lime green hue take the lead in the scheme, it allows accent hues to be used as a tool to break up the strength of the dominant hue. There's a fresh, healthy and energizing feel to this palette; I like how the lime brings a zesty kick that's tempered by the azure blue hues. Remember that it can work to bring two strong colours together as their joint intensity can serves to bring balance to a palette, just like the lime green and turquoise blues here.
Treat side tables and bookcases like mini stages to display accessories that coordinate with the colour scheme of the room. This turquoise vase perfectly offsets the lime green walls of the living room, while the flowers help to visually soften the look of the room.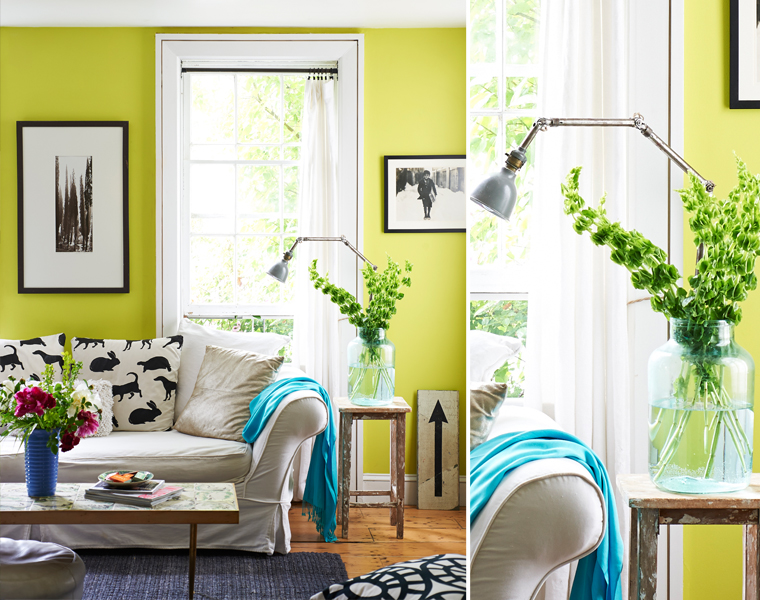 Colour is a great decorating element to help zone an open plan space because it provides a visual indicator to the change of purpose in the various parts of the room. The continuation of lime green across the walls here helps to tie all the sections together and offers a synergy between each area. Meanwhile the array of blues that are layered into the space to signify the zones: an ultramarine painted cabinet and tiled fireplace draw the eye along the feature wall of the room, making statements out of both in the process. The change in pace to a steel-blue denim colour for the rug and radiator pulls the far end of the space together, grouping the living room furniture. Surprise orange accents complete the scheme by inviting visual interest and echoing the clean finish of the lime walls.
The floor-to-ceiling lime walls in Raina's upstate New York living room brings punch to the flea market finds and weathered furniture layered throughout the scheme. Notice how the vivid turquoise throw draped on the sofa creates depth and interest – it really helps to soften the scheme and tone down the punch of the green. I hope you found this colour advice useful! If you would like to buy the book, you can do so in the following places:
Amazon UK
/
Amazon USA
// Photography by Andrew Boyd for the Bright.Bazaar book