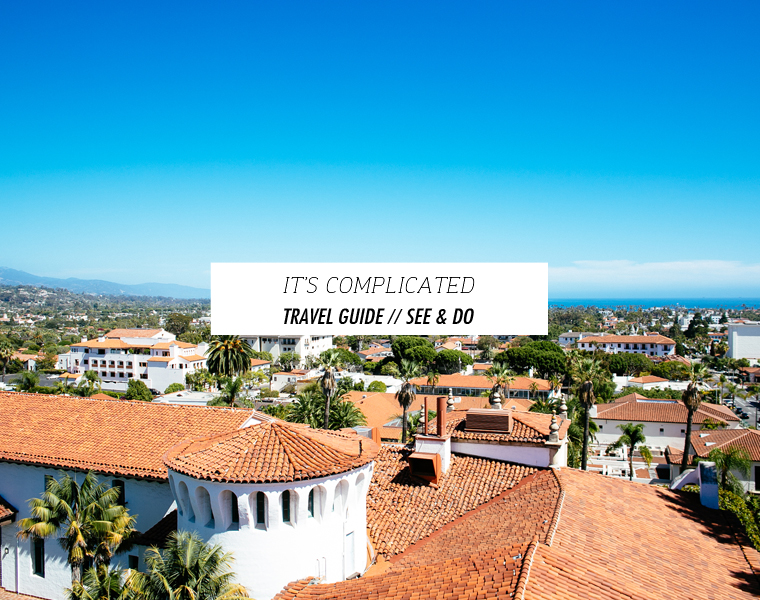 True story: It's Complicated is my favourite Nancy Meyers movie (well, to date, as her new film The Intern might take the lead once it comes out next month!). In the next stop on my collaboration with Warner Brothers I called into Santa Barbara on the gorgeous Southern Californian coast to explore the city in which the It's Complicated is set. It's been such a blast to experience what life was like for Jane – played by Meryl Streep – in the movie. Click through after the jump to join me on my journey and read the travel guide inspired by the film…!
Starting at the Santa Barbara Courthouse is a great way to get your bearings in the city. Climbing the tower gives you a 360-degree view all over Santa Barbara, plus breathtaking views of the mountains and ocean. Be sure to take a camera for both the views over the tiled rooftops and abundance of colourful Spanish tile. | More information: Santa Barbara Courthouse.
There's no better way to make the most of the gorgeous Californian weather than to hire a bike and cycle the beach boardwalk. This makes a great way to exercise first thing in the morning (just like Jane does in the film when she forgets to meet with her architect!) or at golden hour as the sunsets.
More information: Wheel Fun Rentals.
Drive up into the outskirts of the mountains and explore the Santa Barbara Botanic Garden. With trails several miles long, the garden is planted only with plants and trees native to California, from Succulents to Redwood trees. There's also a nursery, shop and Japanese tea room to enjoy. | More information: Santa Barbara Botanic Garden.
The Santa Barbara Public Market is a collective of various food outlets from a noodle bar through to an ice cream stand. There's also a cookery school so it's a great place to take a pastry class – you can learn how to make Chocolate Croissants, just like Jane does in the film!
More information: Santa Barbara Public Market.
Just before Jane meets up with Jake at a hotel she is seen shopping at the farmer's market. Not only that, but Jane also has her own vegetable garden where she grows fresh produce to cook with. This makes it fun to stop in at the Santa Barbara Farmer's Market while you are in town. The colours, smells and atmosphere are all memorable.
More information: Santa Barbara Farmer's Market.
If you are looking to pick up gifts or homewares made my local artists and designers in and around Santa Barbara, then call into Industry Home. From tableware and furniture to lighting and textiles, there's everything for the home inside their four stylish walls. | More information: Industry Home.
The interior of Jane's home was decorated in a palette of sophisticated neutrals with layers of texture and iron detailing. This makes Restoration Hardware on Santa Barbara's main shopping avenue, State Street, a perfect stop to soak up Jane's design inspiration – and perhaps buy – a slice of her interior style.
This spot in the store made it so easy for me to picture those scenes where all of Jane's family all sit around her dining table eating together! | More information: Restoration Hardware.
Feeling hungry? No fear, book a table at Wine Cask for a Californian menu made from fresh local ingredients that can be enjoyed either inside, or outside on the patio under the charming strung bulbs.
More information: Wine Cask.
Remember Jane's oh-so-charming and dreamy bakery in the film? Well I found a great spot that reminded me of it: Lilac Patisserie. It's a gluten-free bakery with a friendly, buzzy vibe. The pastries and coffee are all being made behind the counter, while the French-inspired interior is flooded with natural light.
Was I enjoying it? I think so! | More information: Lilac Patisserie.
I searched high and low to find the perfect spot to recall the memories of *that* kitchen from the film. The moment I stepped foot inside the Santa Barbara Wine Collective I knew it reminded me of Jane's kitchen in the movie. The rustic pendants, bar stools and warm wood all pointed to the design of her space. Stop by to soak up the atmosphere and enjoy a wine tasting as you do. | More information: Santa Barbara Wine Collective.
The blissful Bacara Resort and Spa is the perfect spot to base yourself while staying in Santa Barbara. With elegant yet cosy-comfortable decor, exquisitely landscaped grounds and a property that stretches down the cliffside right to the ocean, it's nothing short of a paradise location.
The Spanish influences are clear to see throughout the property and regularly reminded me of Jane's home in the film, from the wooden beams to the Spanish tile.
From almost all points across the property you can soak up the jaw-dropping ocean views, which will stop you in your tracks at any time of the day. | More information: Bacara Resort and Spa.
What are your favourite moments from It's Complicated? Have you ever been to Santa Barbara?
| Photography by Will Taylor. Posted in collaboration with Warner Brothers; all views my own