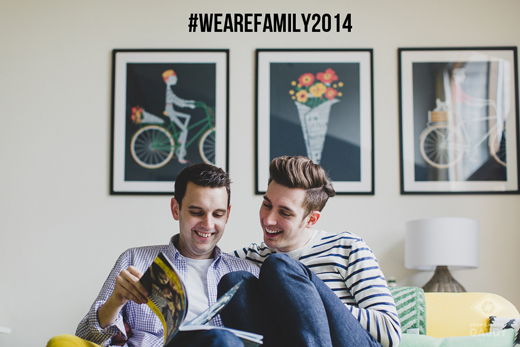 Families. Just like homes, they come in all shapes, sizes, ethnicities and sexualities. I've shared
my thoughts on the meaning of home
in the past, but haven't shared some of the negative experiences I've had because of who I love, and choose to share my home – my family – with. Bright.Bazaar isn't a blog with political comment or a-fly-on-the-wall style look into every corner of my life, so I wasn't sure whether to publish this post – it's been a tough one to write. Yes, I share deeply personal posts occasionally, but only when the very nature of the subject or event, such as
getting married
, changes my life to an extent that it alters the fabric of my life, and how I lead it. I concluded that today's post was important because it reflects on an accumulation of such moments, and how I hope to grow from them.
A month or so ago I saw that someone had left a homophobic comment below a post about a gay male couple's home featured on
Design*Sponge's
Facebook page. I sent Grace, the blog's author, a note to say how sad I was to see that person leaving such a bigoted and distasteful remark. Although saddened by what I had read, I ultimately wasn't surprised – being on the receiving end of homophobia (at times for something as mundane as
wearing white jeans
) was something I had experienced many times before.
In fact, Grace's experience came the morning after a particularly horrible experience I'd had on a train the night before. My heartmate and I sat down opposite a man who we did not know and he was talking across the isle to another gentleman. Shortly afterwards he began to speak loudly and aggressively against homosexuality. He was adamant that gay culture was embarrassing, disgusting and should, at the very least, be kept under wraps and behind closed doors so 'normal' people in society don't have to suffer it. We both felt immensely uncomfortable; sick to the pit of our stomachs – a mix of terrified cold sweats and searing anger. It was distressing and unnerving to be sat opposite a man with such aggressive, bigoted views.Yet, I am disappointed in myself because I didn't say anything to him. I'd had the opportunity to enlighten him and try to show him that gay people are everywhere, and that we are no different from any other member of society with heterosexual desires or otherwise. But I was frightened and scared by stories of violent homophobic attacks that have taken place. I left the train feeling like a coward; my inner monologue telling me I could have done so much more.
Then, the following morning, I was having treatment from an Osteopath on my back and we were talking about the Holidays and were each of us spends Christmas. He asked me if I went home alone to my parents and I said yes. It was completely ridiculous but I suddenly felt awkward about having to explain that I was gay and married to a man. I'm not ashamed of it at all, and in retrospect I am almost certain that he would have had no issue with it. Yet the previous night's event was lingering with me and stupidly I bottled it and skirted the truth to save it being a potential issue. I felt so cross at myself for doing something so stupid. There are so many LGBT people in the world facing far graver and more distressing situations than this, and it's really made me realise how fortunate I am to have (touch wood) only had verbal attacks due to being gay in my life. It's odd to write that I feel fortunate because of that, but in comparison to so many others, I really am.
So as I shared my feelings with Grace (seen above with her wife, Julia, and their dog, Hope), who too had sadly been in similar situations, we agreed that we both wanted to try and do more to raise LGBT equality and awareness in our respective online communities – and hopefully beyond. We talked about how acceptance and understanding are regrettably not where it should be in other sectors of society, too. This led us to create #wearefamily2014 – a project that celebrates the diversity in family and champions equality for all no matter the race, religion, sexuality, gender and so on. The premise is simple: share an Instagram of what family at home looks like for you with the hashtag #wearefamily2014, and it will automatically feed through (only for newly posted images, not old images with the hashtag added to them at a later date; you can see all the images by searching the #wearefamily2014 hashtag on Instagram directly) to the #wearefamily2014 Tumblr page. Our hope is this accumulation of family photographs from across the world will show a united stand for equality, and be a celebration of the diversities of families across our globe. Here's to taking steps forward to equality for all!
// Photography by Jean Laurent Gaudy, bar the last picture by Grace Bonney